How to: Compile a PsyBNC on a Phoenix Shell
1) First you need Putty. "PuTTY is a client program for the SSH, Telnet and Rlogin network protocols." You can download it here:
http://www.chiark.greenend.org.uk/~sgtatham/putty/download.html
For more info go to:
http://www.chiark.greenend.org.uk/~sgtatham/putty/
2) When it's downloaded, open it. Don't change anything to the Putty settings if you don't have experience with it. Put infinity.phoenix-hosting.org in the Hostname/IP field. Port stays 22. Click "Open". You will see something like this: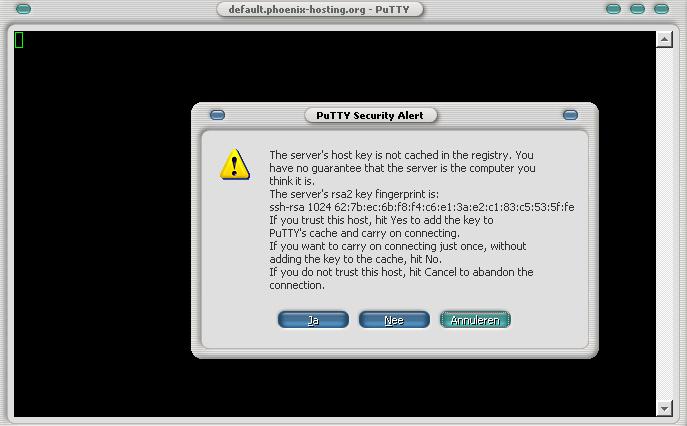 You will see this, but with "Yes", "No" and "Cancel", instead of "Ja"m "Nee", and "Annuleren". Or if you have Windows in another language, of course it says "yes", "no" and "cancel" in your own language. As you can see the server host key can be cached in your registry, which means you won't get this security alert when you click "Yes". This message won't be popping up until the server's rsa2 key is going to change. If you don't connect to your shell often, click no.
3) After this you will get "Login" and "Password", fill in your login details. At the password field you won't see anything when you type the password, don't worry that's completely normal. Security purposes.
4) Now you have to read the whole block of text before you do anything on the shell. When you are done, you can start doing your first step towards compiling your PsyBNC.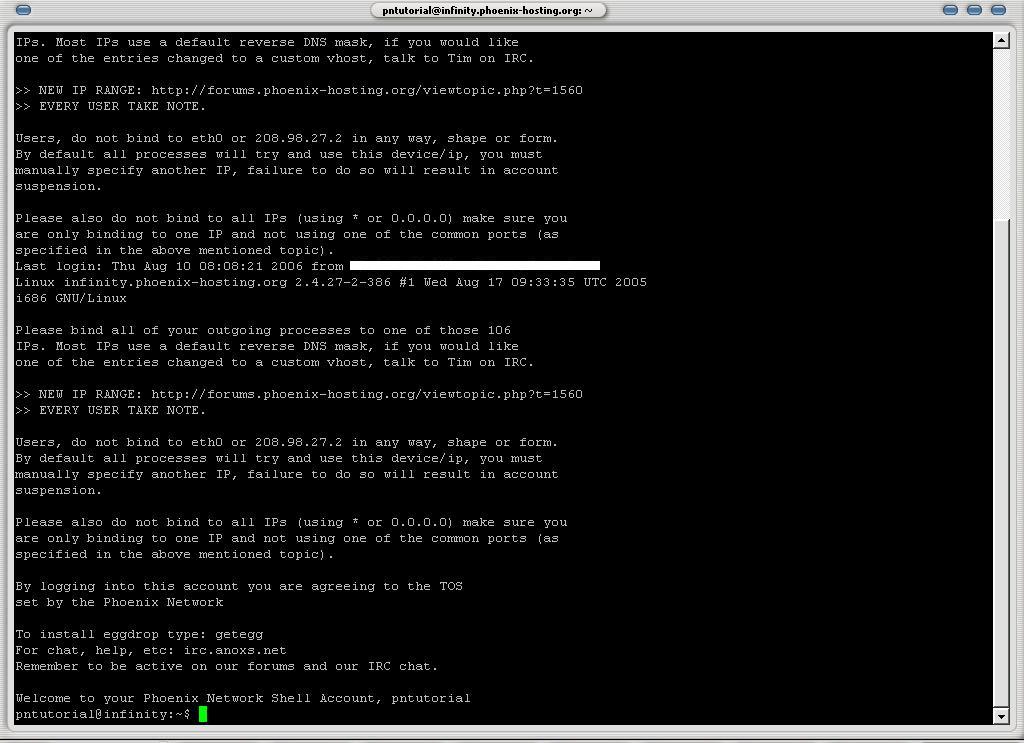 5) Use "wget <url>" to get the latest PsyBNC version. It's located here: http://www.psybnc.at/download.html The official support homepage: http://www.psybnc.at/ The latest version of psybnc at the moment is psyBNC-2.3.2-7.tar.gz, so I'm using this link: http://www.psybnc.at/download/beta/psyBNC-2.3.2-7.tar.gz So if you want to download this file to your shell, use "wget http://www.psybnc.at/download/beta/psyBNC-2.3.2-7.tar.gz". You will see something like this: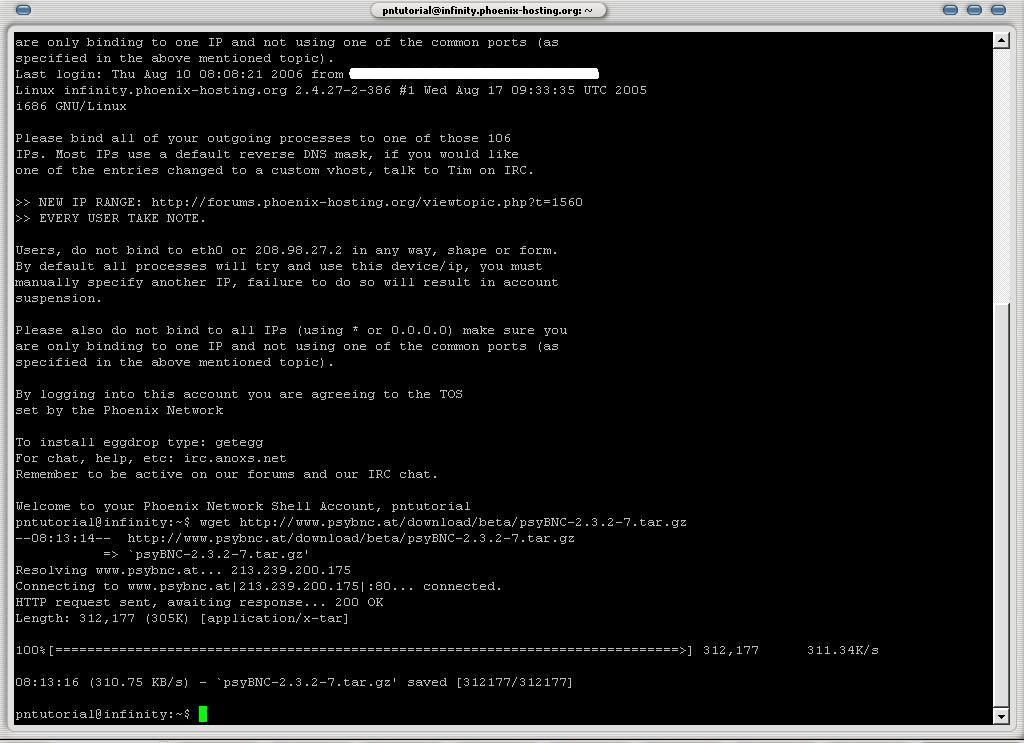 6) A few seconds later the file will be on your shell. You are now in your home directory. Type "ls" to list the components in your home directory. You will see colored directories and files. Find the psyBNC-2.3.2-7.tar.gz file you just downloaded. Use tar -zxf psyBNC-2.3.2-7.tar.gz to extract the compressed file. Now use "ls" again, you will see a "psybnc" folder. That's the folder you just extracted from the tar archive.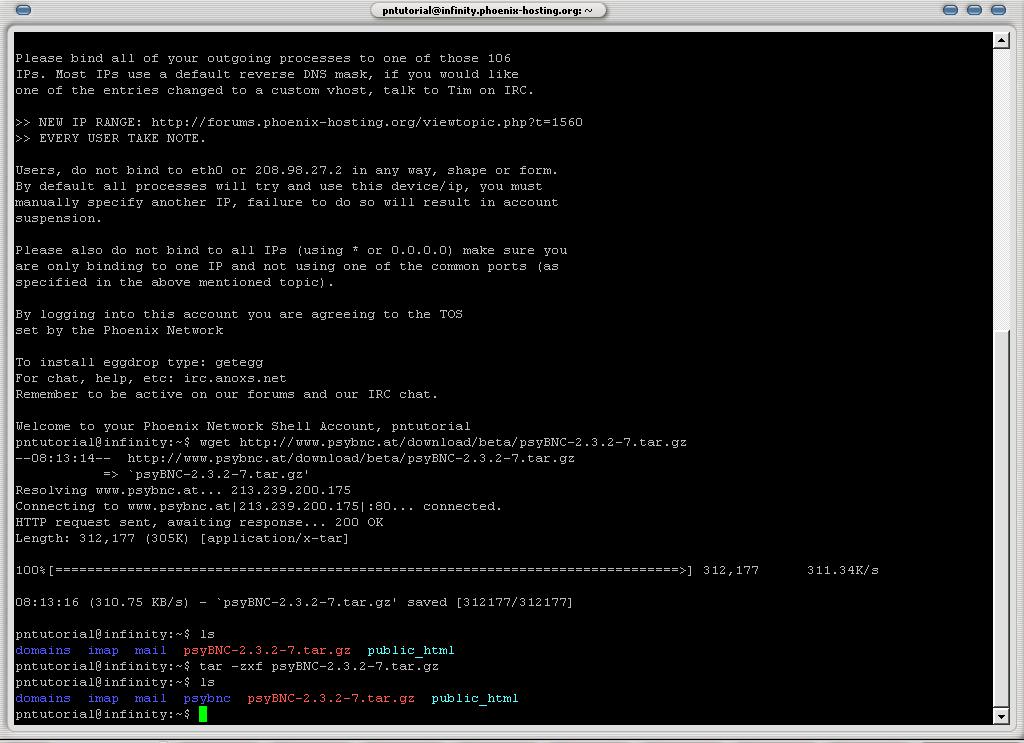 7) Go to the psybnc directory using "cd psybnc" and list it with "ls".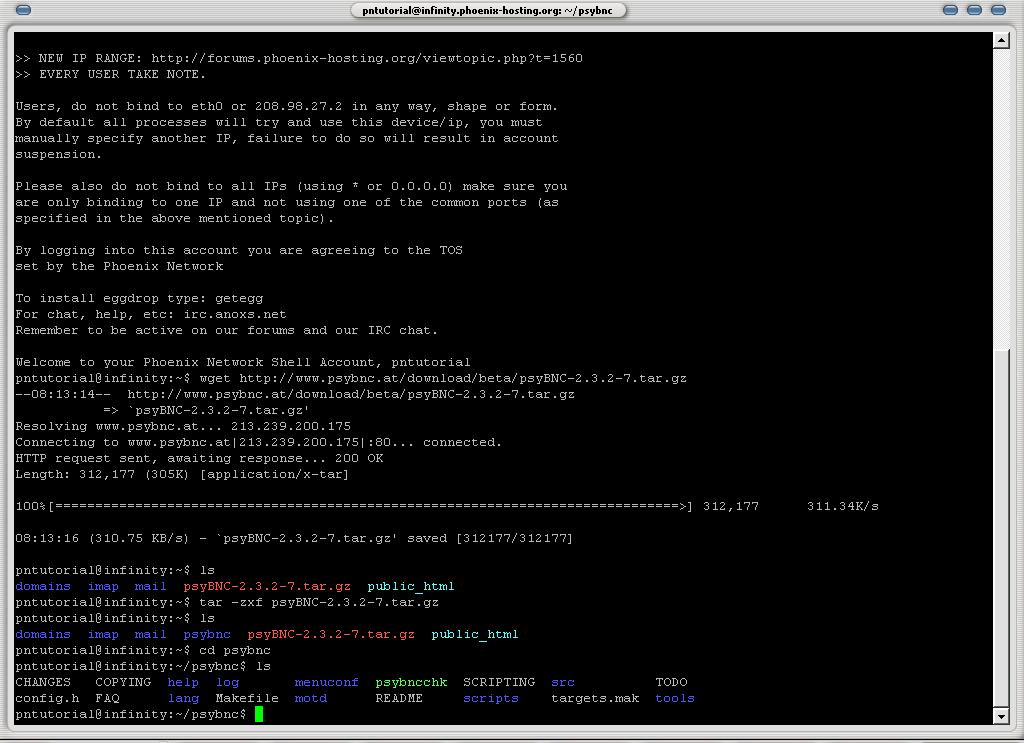 8) Type "make menuconfig", it's a psyBNC command to help you create your psybnc configuration file and settings.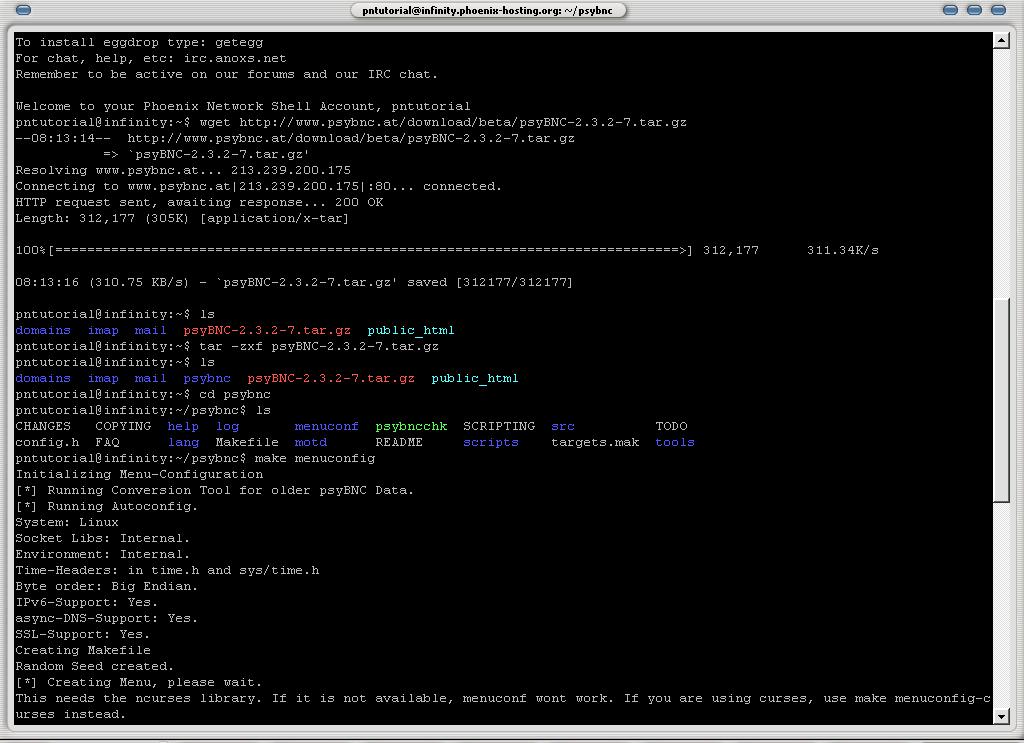 9) You will see a blue screen after the shell started menuconfig.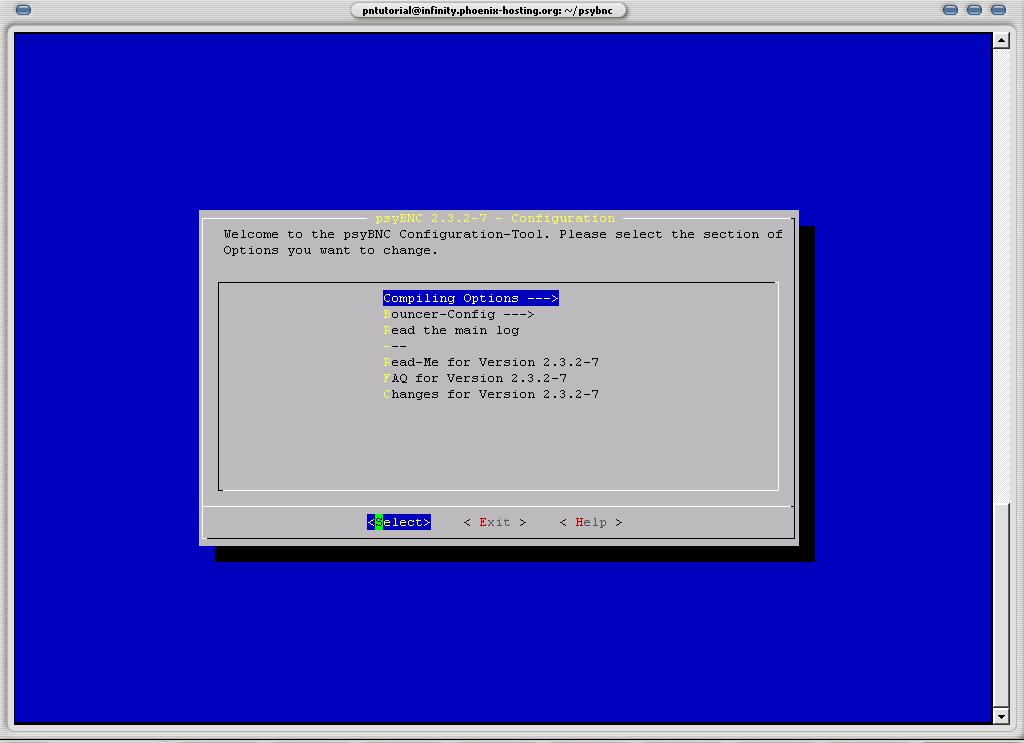 Looks like ms-dos eh?
10) Use your arrow-keys to change between the options. And enter to go into the menu. First lets config the "Compiling Options".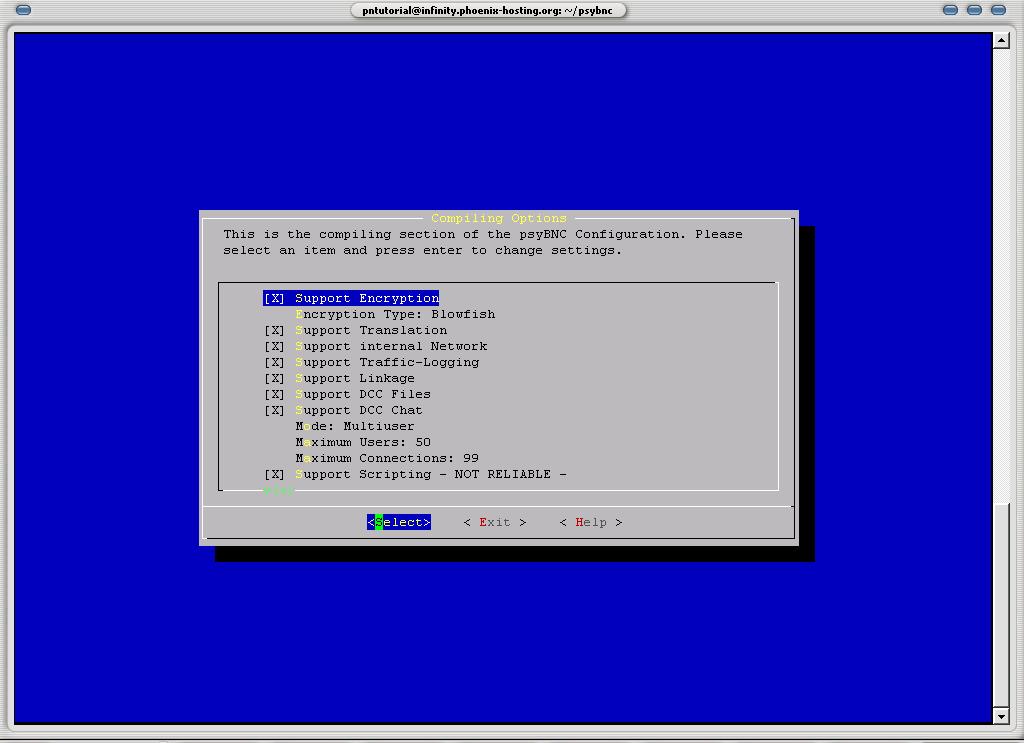 You really don't need to change much in here. The default settings is good enough for the purpose of a bouncer. If you don't know what you are doing, I suggest you leave this for later, when you know more about the PsyBNC and its advanced usage.
11) Select "Exit" when you are done and press "Enter". Lets head to the "Bouncer-Config". You will see this: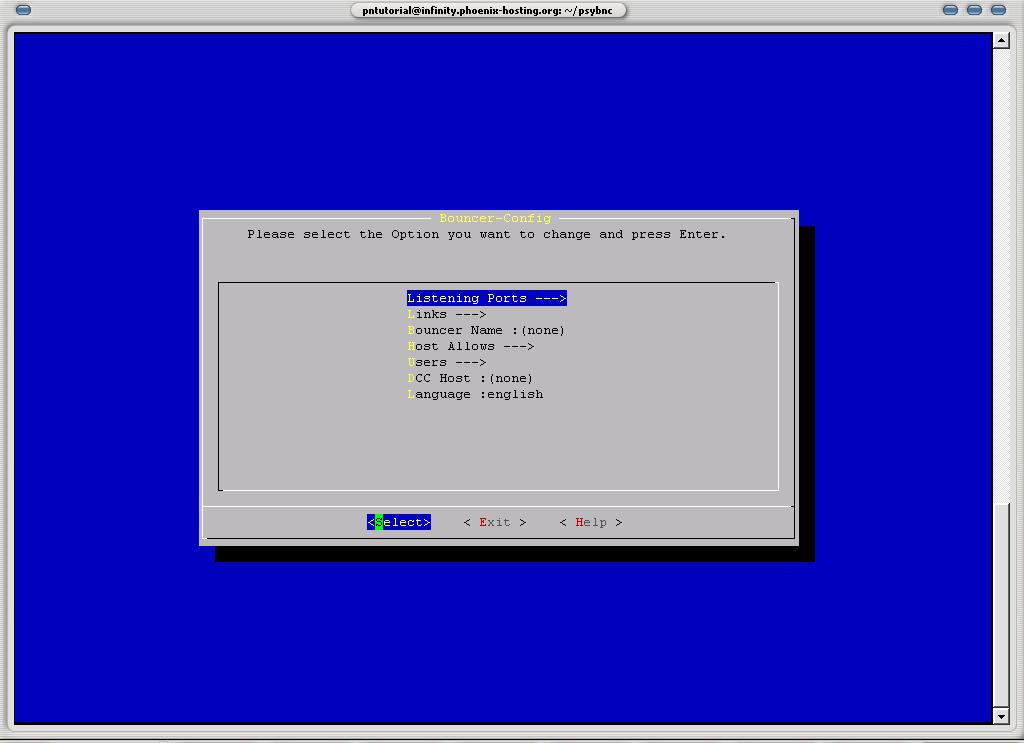 12) Go to "Listening Ports" and press "Enter":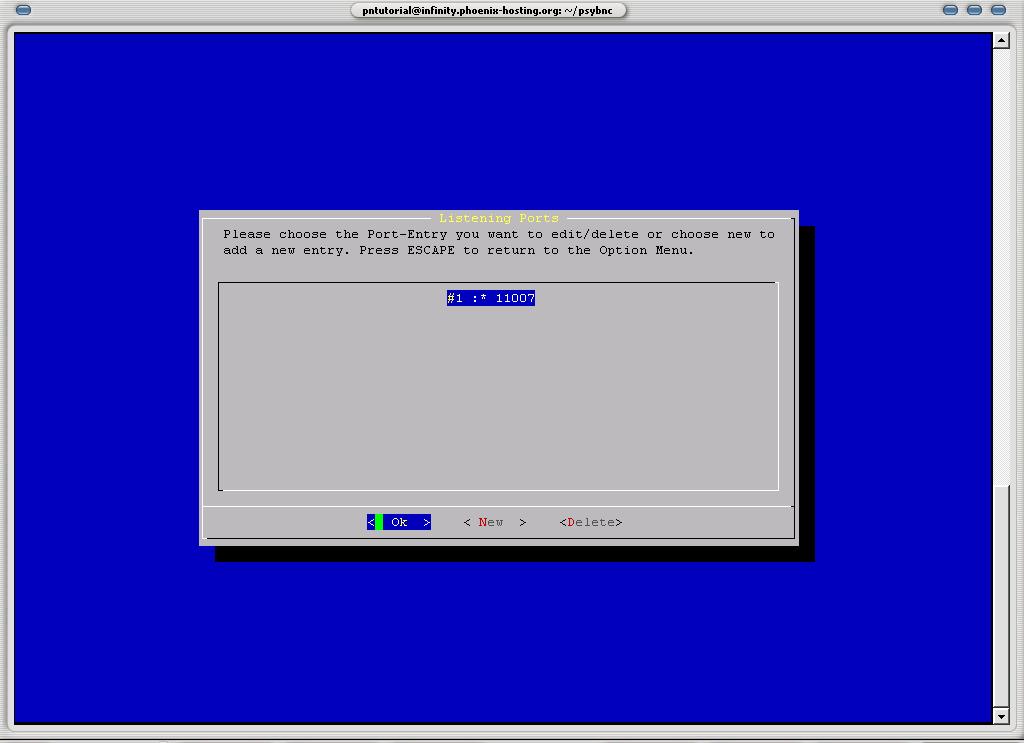 This function is used to connect to your PsyBNC when it's compiled. Use a random high port number, don't use ports that are used by other applications. Or ports that can be used by other applications. eg. 6667, 6668, 6669 etc.. Best thing to do is to use a port range higher than 10000. I used "11007" as an example, I suggest you pick another one. Fill in the port and press "Enter", then use "Esc" to go back to the previous menu.
I skipped "Links", because that's not a part of setting up your psyBNC, but a part of the advanced usage of your PsyBNC.
13) Next is "Bouncer Name", I think this is obvious.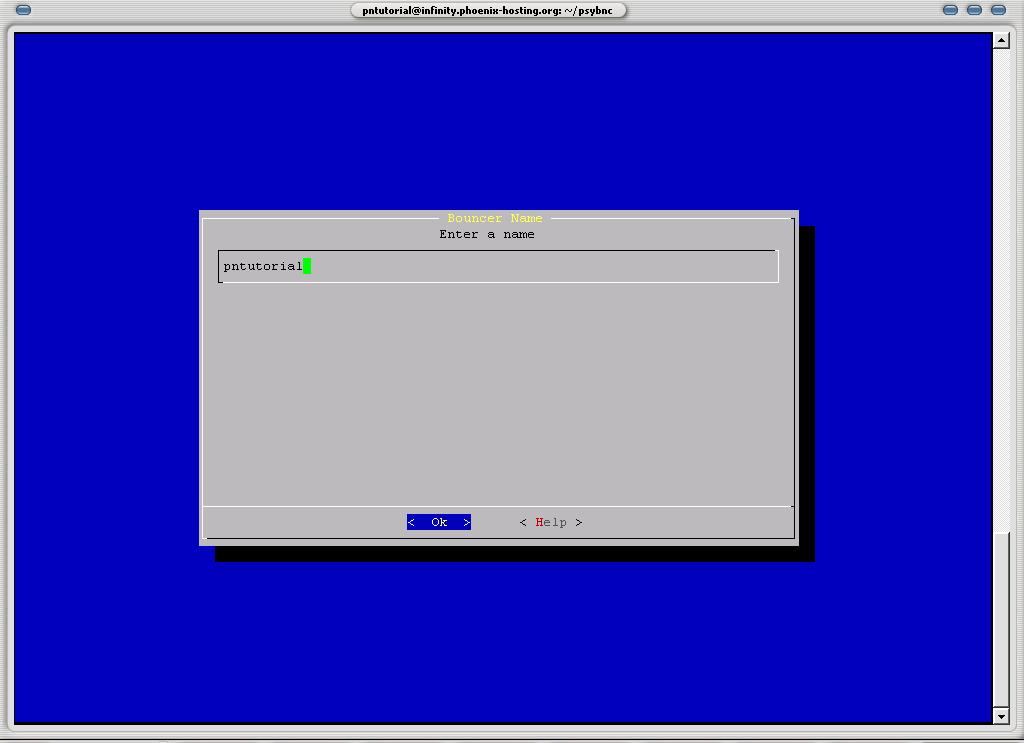 As far as I know, this does not have a real purpose. It's only used for linking your PsyBNC. Fill in the bouncer name, press "Enter" and use "Esc" to go back to the previous menu when you are done.
14) At "Host Allows" you will see "#0 :*;* *;*" as default host. That will make anyone from any computer able to connect to your bnc. They can't use your bnc, unless they know your password. So if you choose to let this stay this way, think of a complicated password. Most people don't change the default *;* IP. If you want your psyBNC to be more secure, use "Host Allows".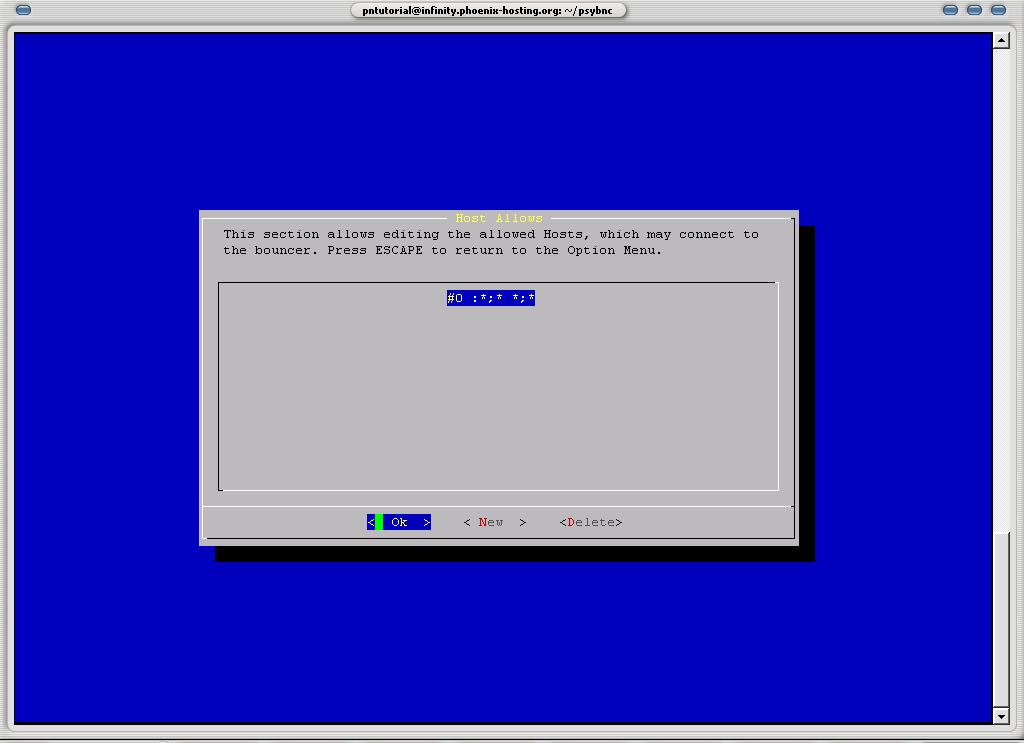 If your IP is 208.98.27.2. Ignore the ; part. Fill in the IP and press enter. If you have a dynamic IP(your on dial-up or dsl and your IP changes) use an asterisk( * ) on the part of your IP address where it changes. For example: 208.98.27.2 If this IP changes, most of the time it's the last part of the IP(the part behind the last dot). Then you can use 208.98.27.* etc etc.
15) The "users" part can be skipped, since you can only have one user on the psyBNC which is the psybnc admin. The first user who is connected to the bnc will automatically be the psybnc admin.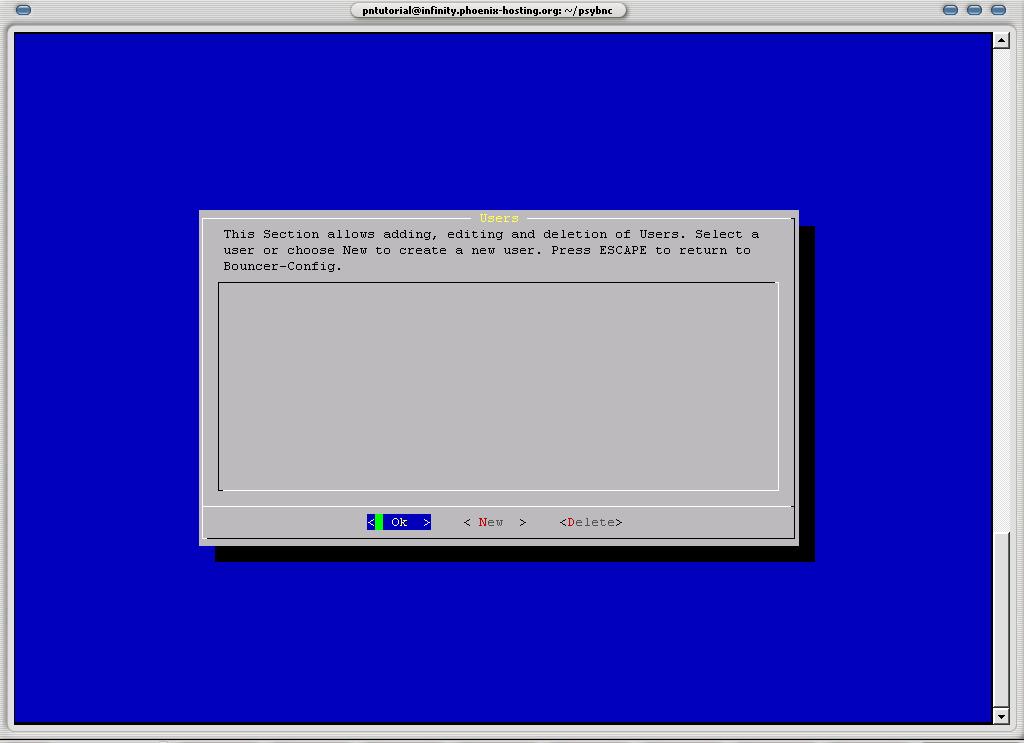 16) "DCC Host" is used for sending files through the BNC to you shell and files from your shell to your client or other users. Use the same IP as the vhost* you want to use for your psyBNC. If you don't send files, you can skip this step.
* More info about the IP range you can pick from and the list of available vhosts: http://forums.phoenix-hosting.org/viewtopic.php?t=2363
17) Choose the language you prefer that the psyBNC will show on the menu when you login.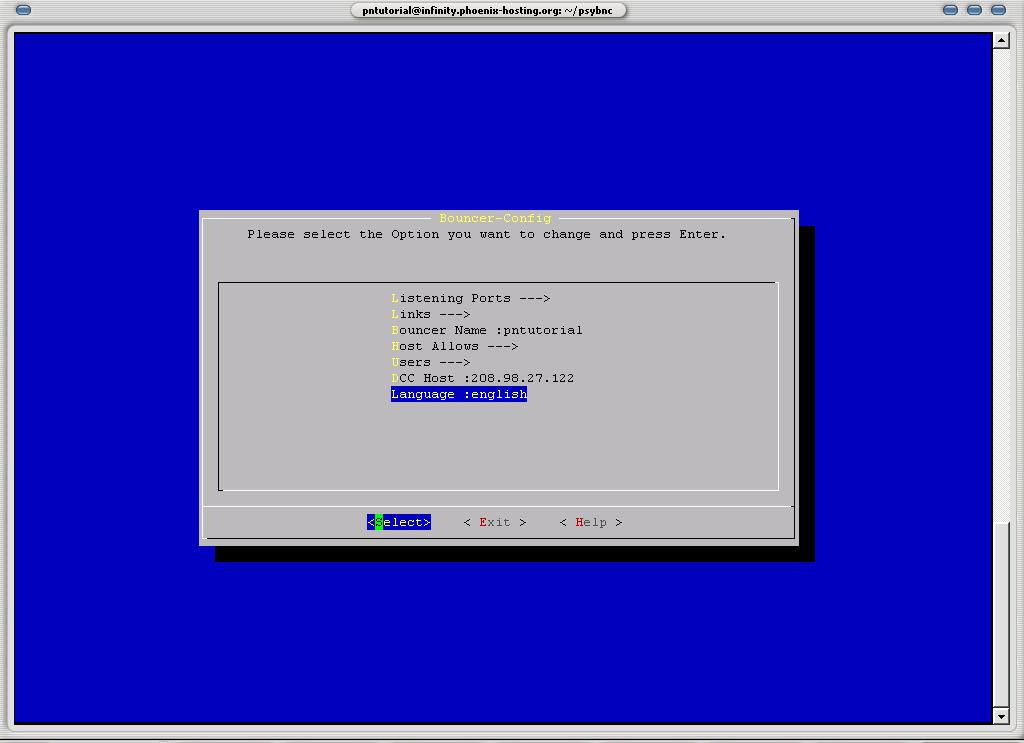 18) You're almost done! Press "Exit" to go to the main menu.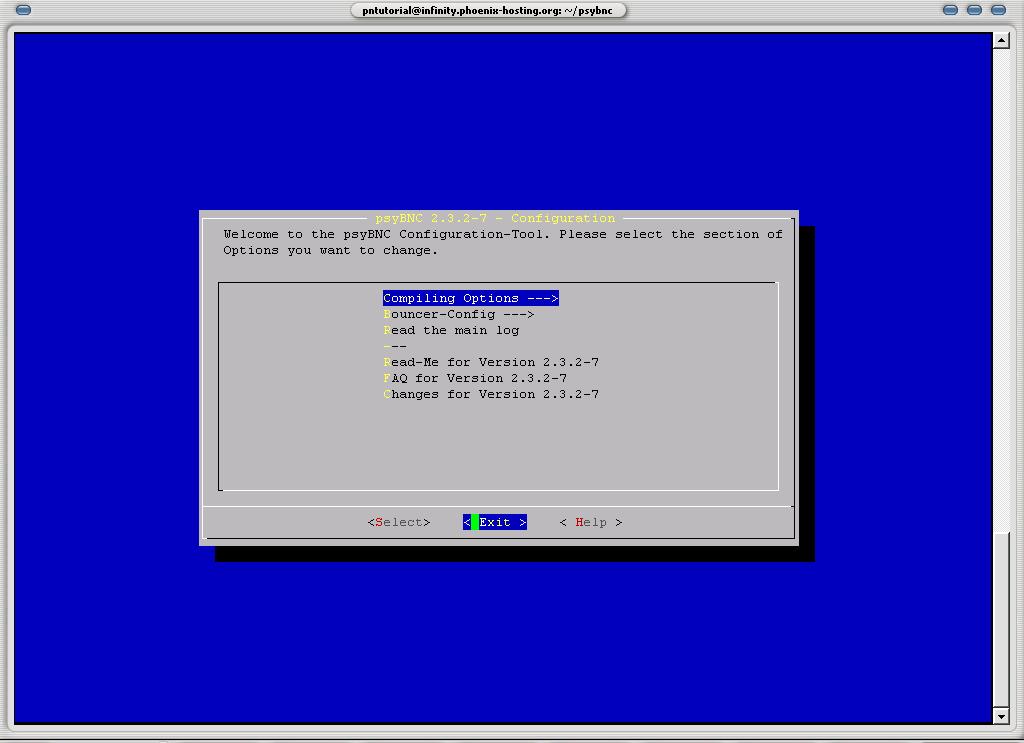 Press "Exit" again.
19) Now you're back to the shell.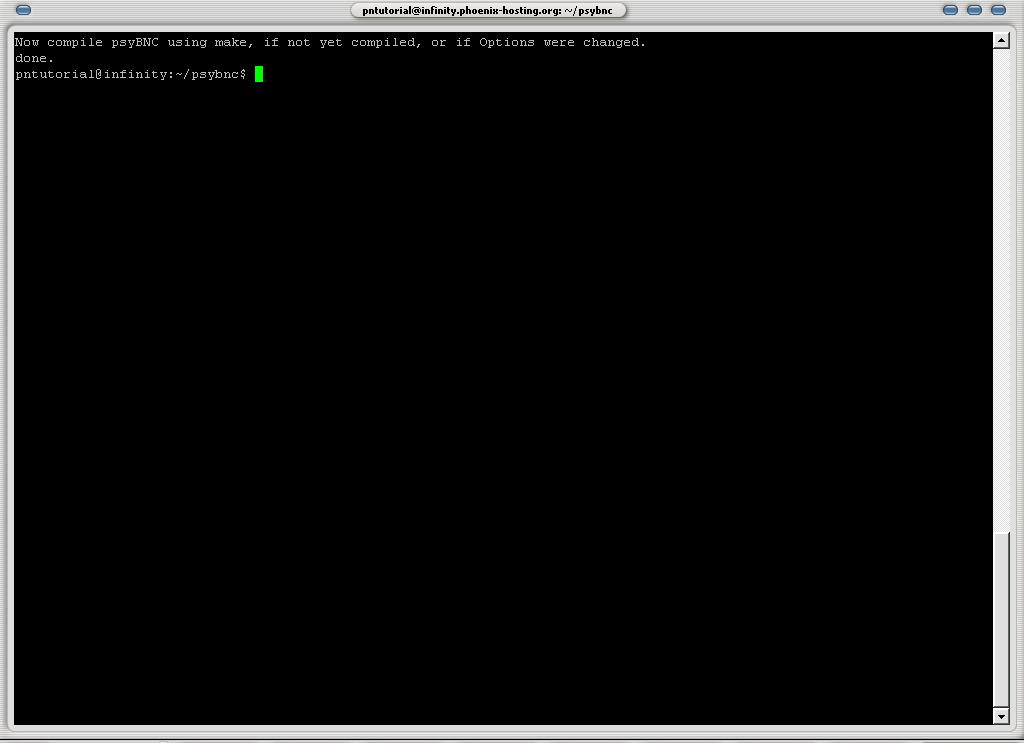 Type "make" and press "Enter"
20) It will compile the psyBNC with the configuration you just made. May take a few seconds. After that you will see some fields where you have to fill in some info about your corporation and domain etc. Try to fill all fields if possible. Things you don't know or not required, simply press "Enter" so it will be a default value. Or type "." and press "Enter" to leave the field blank.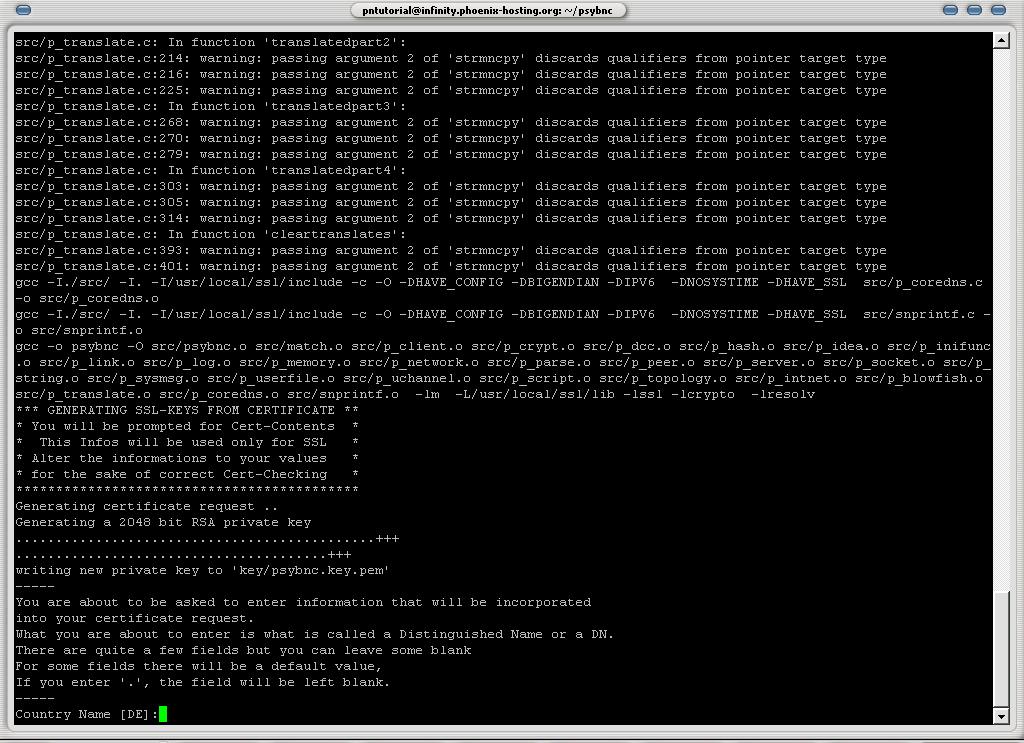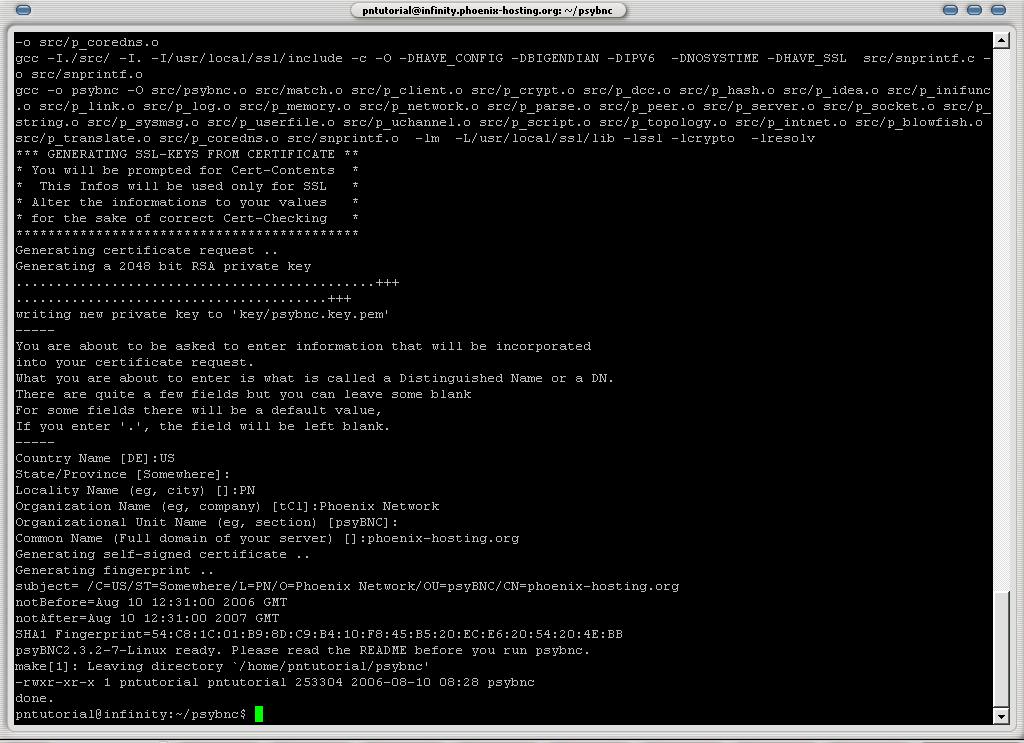 21) Final and hardest step! Starting the psyBNC... Type "./psybnc" (Don't forget the dot).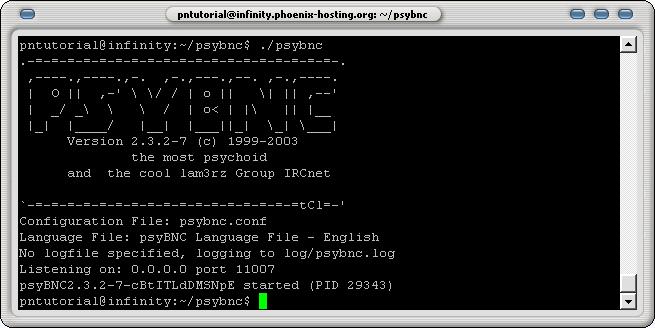 Congratulations! You just compiled your own PsyBNC! If you don't have to do anything else on the shell type "exit" And you'll be logged out.
For information how to connect to #phoenix on irc.anoxs.net with your PsyBNC, follow this tutorial:
"How to: Connect to the PsyBNC using mIRC"
---
(c) 2006 Tutorial made by RomMaster @ Phoenix Network | Tutorial only meant to be used by Phoenix Network users | Big thanks to the users who helped me removing some mistakes from this tutorial. Especially to Samppa. *cough*